Conejo Open Space Foundation

Conejo Open Space Foundation's mission
To help preserve, promote and protect the open spaces through community education and involvement, and fundraising to support these efforts.
News from COSF
(
View all the updates
.)
Sept 23, Conejo trail restoration for National public Lands Day!
(9/14/2023)
-
The second monthly trail work day is being held on the morning of Saturday September 23, in honor of National Public Lands Day. The work will be on the trails of Rancho Potrero, clearing weeds that choke the trails and fixing ruts. The monthly work days are organized by the Conejo Open Space Conservation Agency (COSCA), with support from COSF. In order to participate, you will need to sign up online. Details of where and when to meet will be provided when you register. The work will be done under the guidance of COSCA rangers. (read more...)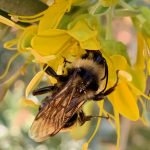 Come Visit COSF's Family-friendly Native Plantpalooza & Eco Fest October 1!
(8/7/2022)
-
This free educational event with dozens of eco-related exhibitors will have lots of fun activities for the kids! Hosted by the Conejo Open Space Foundation on Saturday October 1, it will take place in Thousand Oaks at the Lakeside Pavilion area of the Conejo Creek North Park, from 9:00 a.m. to 2:00 p.m. The first-time festival's exhibitors include butterfly experts from Betina's Little Farm and Butterfly Garden, beekeepers from the Los Angeles County Beekeeping Association, noted wildflower painter and author Stacy Ruda Best, the garden clubs of Westlake Village and Conejo Valley, Poison Free Conejo, and many more. Exhibitors will… (read more...)
---
Follow us on social media