Board of Directors

The Board of Directors meets on the first Monday of the month for 1½ hours, immediately before the Conejo Open Space Trails Action Committee (COSTAC), to make it more convenient to attend both meetings. The meetings are open to the public and are a great way to learn about the developments and areas of concern in the Conejo open space.
COSF directors are all are passionate about protecting, preserving, promoting, and enjoying the Conejo open space. We love being in, talking about, looking at, and working for the publicly owned trails and land that surround us.
We come from a variety of backgrounds. Some COSF directors are retired, some are in the early stages of their careers, and the rest in between. Several are native to the Conejo Valley or Southern California, while others moved here from other regions of the US and the world. We have widely differing ideas and opinions on many subjects, but we share one overriding connection: love of our public open space.
COSF directors donate their time and receive no compensation for their services. If you might be interested in joining our board or working with us, please contact us at president@cosf.org.
Anne M. Russell – President (Director since September 2020) Anne M. Russell is a native of Baltimore, who also lived in Houston and Orlando before settling in Agoura Hills. She is a freelance journalist and former editor in chief of the women's fitness magazine Shape. She holds a degree in English from Yale University.
She is an avid hiker, trail runner, and mountain biker, as well as an enthusiastic volunteer with the Sierra Club, the Santa Monica Mountains Trails Council and the Xerces Society's California Bee Atlas project.
She is especially interested in studying and protecting Southern California's native flora, having had training in the use of medicinal and edible plants.
T
ania Garcia – Vice President (Directory since September 2021) Tania's passion for the outdoors begins while growing up in the southern tip of the Rocky Mountains in northern New Mexico. After moving to Ventura County in 1998, she became an avid hiker and learned to appreciate the local trails. Now a resident of Simi Valley, Tania is just about to complete her exploration of every trail in the Simi Hills.
Most recently, Tania worked at the University of Denver as a major gift fundraiser, connecting with alumni and parents and engaging them in campus support of $50,000 or above. Additionally, Tania was a founding member of the DU remote regional program, overseeing various activities in the southwest region. Prior to DU, Tania worked for 15 years at California State University Channel Islands in various capacities including fundraising, engagement, board management and community relations.
During her time at CSUCI, Tania was heavily engaged in the Greater Conejo Valley Chamber of Commerce, once being selected as the Volunteer of the Year for her efforts in the local K-12 educational community. While at CSUCI, Tania also created a unique community-wide Dodger Day program that won regional gold-medal recognition through the Council for Advancement and Support of Education. She has also served on the California State System-wide Alumni Council Board of Directors, representing Ventura County at a state level. Tania also was the designer, founder and developer of the first alumni organization on the CSUCI campus.
She comes to us with additional experience in government relations, event planning, strategic planning, board management, business partnerships, and photography.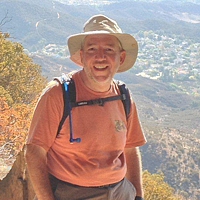 Steve Johnson – Treasurer (Director since March 2020) Steve Johnson has lived in the Conejo Valley since 2003, and retired from Amgen in 2014, where he worked in information technology.
He can be found hiking area trails three or four times a week, with The Weekday Trailblazers hiking group, or scouting lesser-known trails.
He serves in leadership positions on the boards of area nonprofit arts organizations, and on the Dean's Advisory Council for the College of Science and Health of DePaul University in Chicago.
He holds undergrad degrees in physics and mathematics (with a minor in music), and a graduate degree in computer science and engineering.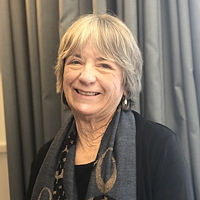 Elayne Haggan – Secretary (Founding member; Director since 1995) Elayne was born, grew up and went to college in Maine, then lived in Boston and New York City. Her husband Tom was offered a promotion that required relocating to the LA area, so they moved to Thousand Oaks in 1982 for what was expected to be a temporary stay, and they're still here!
They bought a house bordering Wildwood Park, with no idea how important "their back yard" and open space would be to them, becoming avid hikers and mountain bikers, and were founding members of the Concerned Off-Road Bicyclists Association (CORBA). Elayne's involvement with local open space issues began when the Conejo Recreation and Park District (CRPD) considered closing trails to mountain bikes, and Wildwood Mesa was scheduled for development.
Elayne was an initial appointee to the Conejo Open Space Action Committee (COSTAC) in 1989 and served on the committee through 2009. Formed to provide citizen input on trail connections, COSTAC also created the Conejo Open Space Conservation Agency (COSCA) volunteer programs. The program closest to her heart is Trails Education Days.
When COSF was founded, COSTAC appointees automatically became COSF board members. She served as VP from 1995 – 2014. 2018 was her last year as President.
Elayne worked in sales and marketing for several companies, including Apple. Later she and her husband ran their business, TurboCat Lighting Systems, and she managed Consumer Relations at Universal Studios Home Entertainment from 2004 until retirement in 2014.
Steve Clark (Director since 2017) Steve grew up in Vancouver, Canada. As a child, he would go camping, canoeing and fishing with his father on the lakes in the many nearby mountains, but his main interest was in science and technology, and learning how things worked.
He earned a Bachelor's degree in Biochemistry and went on to get a Doctorate in Molecular Biology. During his studies he realized that computers were essential to help organize experimental data. This started him towards the new field of Bioinformatics.
Steve moved to Southern California in 1991 to take up a position in Bioinformatics at the Salk Institute in San Diego. It was there that he first started mountain biking. Two years later he moved to Thousand Oaks to co-found the Department of Computational Biology at Amgen, Inc. He was happy to discover that the Conejo Valley, the Santa Monica Mountains and other nearby areas have many great mountain biking trails. There are even more trails for hikers, so he would often leave his bike at home to explore new trails (to him) on foot.
To help others discover the local trails, he started the website VenturaCountyTrails.org where trails are shown on maps and described so that visitors can find their way and know what to expect.
In 2007 Steve retired from Amgen. Since then he has focused on volunteering to help the trails and open spaces, starting with CORBA (Concerned Off-Road Bicyclists Association) as a trail worker, photographer, trail crew leader and web master. He eventually became a member of the board of the Santa Monica Mountains Trails Council, and then of the Conejo Open Space Foundation in 2018.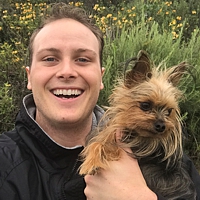 Giancarlo Hamner (Director since June 2019) Giancarlo is a Conejo Valley native and has always valued the beauty he is surrounded by. Throughout his youth he spent numerous weekends camping, fishing, boating, hiking and backpacking throughout California with the Boy Scouts, and even earned his Eagle Scout rank. Some of the projects he has engaged in were rebuilding the staircase that leads to Paradise Falls in our very own Wildwood Park, building a retaining wall on the trail leading to the Falls, and working to fix a trail for local hikers.
Growing up he became enamored with scuba diving. His passion lead him to share his scuba skills by teaching other children at Catalina Island to dive. He now holds a PADI Instructor License and is part of the Global Underwater Explorers. Giancarlo is well familiar with the COSCA open space and trail system. He is a trail runner, taking advantage of the COSCA trails in his Dos Vientos neighborhood.
Giancarlo graduated from California State University Channel Islands majoring in business. He is now a Financial Advisor for Edward Jones and has his office in Westlake Village. His goal is to support small business owners and Conejo Valley families to reach their long-term financial goals.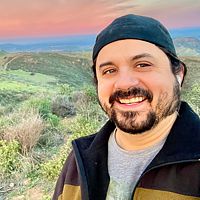 Jerry Fehlman (Director since March 2022) Jerry has been a resident of Simi Valley for over 20 years. Living in the Wood Ranch area, he enjoys hiking, especially the Long Canyon and Lang Ranch trails.
His love for nature developed during his high school years spent in Southern Utah, where he camped and hiked around Zion National Park.
Jerry has a background in graphic design and professional photography and has a strong social media presence. (You can find him on Instagram at @j2_m_f )
Jerry is involved with many community organizations including serving as a board member of his homeowners association and volunteering with his son's basketball and cross-country teams. Jerry is currently employed with Alliance Entertainment, a distributor of music, movies, and consumer electronics.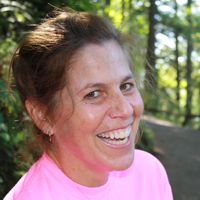 Joyce Higgins (Director since March 2022) Joyce grew up in and still lives in the San Fernando Valley. Before retiring in 2017, she worked as an account manager for an Encino business management firm.
As an adult, Joyce fell in love with hiking and, later, mountain biking. It was through mountain biking that she had found several outlets to give back to the parks: She joined CORBA (the Concerned Off Road Bicyclists Association) and started volunteering in trail maintenance. In 2015, she enlisted in the Mountain Bike Unit where she met her husband Dan. While on a MBU patrol, surrounded by fellow patrollers and other mountain-biking friends (and with the permission and blessing of NPS and CPS) Dan and Joyce married on the wildflower-covered Overlook Trail at Pt. Mugu State Park on a beautiful spring morning in 2017.
Joyce is also involved in Toastmasters where she enjoys practicing public speaking and active listening. Other hobbies include gardening and creative arts.
Bill Miller (Director since July 2022) Originally from the front range of Colorado, Bill grew up as an outdoorsman—raising and riding horses, fishing in creeks and rivers, skiing of all types. Being exposed to open spaces throughout his life taught him the value of fresh air, nature, and exercise in an increasingly hectic world.
As a resident of Thousand Oaks since 2008 and an avid mountain biker, Bill and his wife regularly enjoy the Conejo Valley Open Space on their mountain bikes. Bill is a bicycle-industry veteran, approaching 35 years of experience ranging from retail to manufacturing, product design and innovation, and now managing training and development for internal and retail staff at Giant Group USA, headquartered in Newbury Park.
The outdoors and cycling have been such a large part of Bill's life that he believes that supporting open space preservation in a place as beautiful as the Conejo Valley is a great way to give back to the community.
History of the Board of Directors

Joyce Deprest HIggins 2022
Jerry Fehlman 2022
Tania Garcia: 2021
Alberto Huerta: 2021-2022
Katie Morgan: 2021 – 2021
Anne M. Russell: 2020
Steve Johnson: 2020
Mary Klem: 2020 – 2021
Marcella Ketelhut: 2019 – 2022
Brendan Callahan: 2019 – 2021
Giancarlo Hamner: 2019
Christina Robertson: 2018 – 2020
Tasha Spangler: 2018 – 2019
Kathleen Perkinson: 2018 – 2019
Steve Clark: 2017
Jerry Westby: 2017 – 2022
Kira Krukowski: 2016 – 2020
Brian Stark: 2016 – 2019
John Kross: 2016 – 2017
Janna Williams: 2015 – 2020
Dorothy Sullivan: 2015 – 2018
Craig Percy: 2014 – 2019
Anna Huber: 2014 – 2016
Georg Winkler: 2013 – 2018
Fontayne Holmes: 2011 – 2016
Melanie Ashen: 2006 – 2017
MaryJane MacLeod: 2005 – 2012, 2015 – 2018
Elizabeth Brown: 2005 – 2011
Nicole Tindell : 2000 – 2013
Burt Elliott: 1998 – 2014
Bill Cook: 1998 – 2005
Julia Osborn: 1997 – 2017
Kathleen Hardman: 1997 – 2007
Elayne Haggan: 1995, Founding Member
Virginia Bowers: 1995 – 2018, Founding Member
Mark Langton: 1995 – 2016, Founding Member
Gina Smurthwaite: 1995 – 2005, Founding Member
Jeff Alexander: 1995 – 2003, Founding Member
Paul DiNubilo: 1995 – 1998, Founding Member